Minimum sound level for measurement microphones - How to perform ultra-low noise measurements?

Our ear has a typical dynamic range of about 0dB to 120dB. This large range has major challenges for today's measurement technology.
We have written a separate article for high noise levels and the challenges associated with them.
In this article we deal with measurements of low sound levels in the range near the threshold of hearing .
State of the art
In the field of professional acoustic measurement technology, 1/2" condenser microphone capsules have been established as "workhorses" for many decades. They have a sensitivity of 50mV/Pa. The inherent noise of these capsules is around 15dB(A). noise from the preamplifiers is added, which is why even a high-quality sound level meter will show a noise floor of 15-20dB(A) in complete silence.
Current Challenges
In a quiet environment, we can also hear sound levels well below 20dB and many people find this annoying. Typical examples are projectors in home cinema systems. But also ventilation systems that are also in operation at night in bedrooms.
Measurement accuracy
In order to reliably record a sound level, the measuring system's inherent noise must be approx. 6 to 10 dB below the level of the sound source to be measured. In practice, a quiet fan with 18dB(A) cannot be measured with a typical sound level meter.
Size of the microphone capsules
The size of the membrane of the condenser capsule has a direct influence on the inherent noise. A larger capsule "captures" more sound energy. In general, small 1/4" capsules such as the ECM8000 from Behringer or Beyerdynamic MM1 are unsuitable for low-noise measurements.
Large 1" capsules reduce the inherent noise by 3 dB, but these large capsules have a distinct life of their own with pronounced resonances at high frequencies. Therefore, nowadays 1" capsules are only used in special cases. Large diaphragm capsules with more than 1" from studio technology are low-noise, but unsuitable for measuring purposes.
Special microphones
For several years, various well-known manufacturers have also been offering special 1/2" measurement microphones that have an inherent noise of 5-6dB(A). These capsules are sold together with a suitable preamplifier and form a unit. We have such measurement systems in our laboratory (e.g. GRAS 40HL) and thus also offer measurements.
The following picture shows a GRAS40HL with LEMO connector.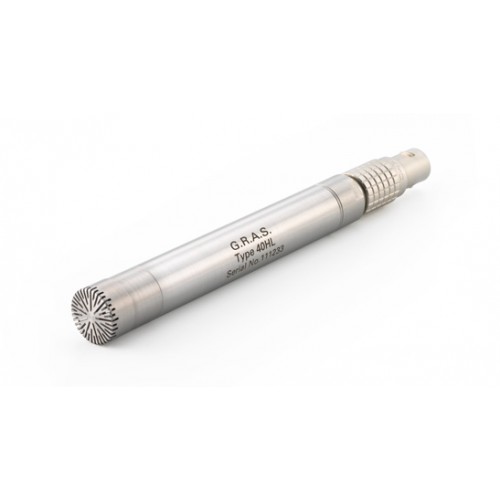 A power supply unit, eg 12AD, is part of an overall system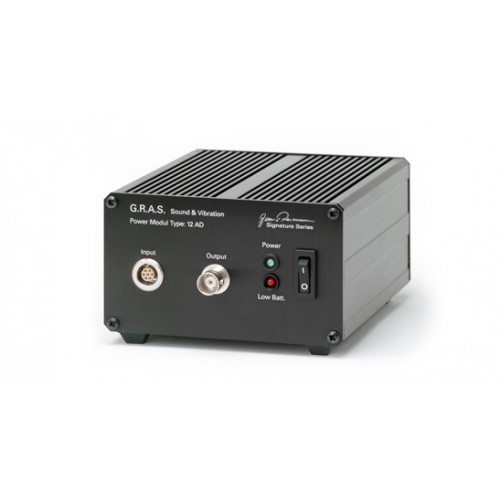 This technology is now also offered somewhat more compact and cheaper as an ICP/IEPE system, here you will find the usual manufacturers B&K, GRAS, PCB and MTG.
The following image shows a MM214 from Microtech Gefell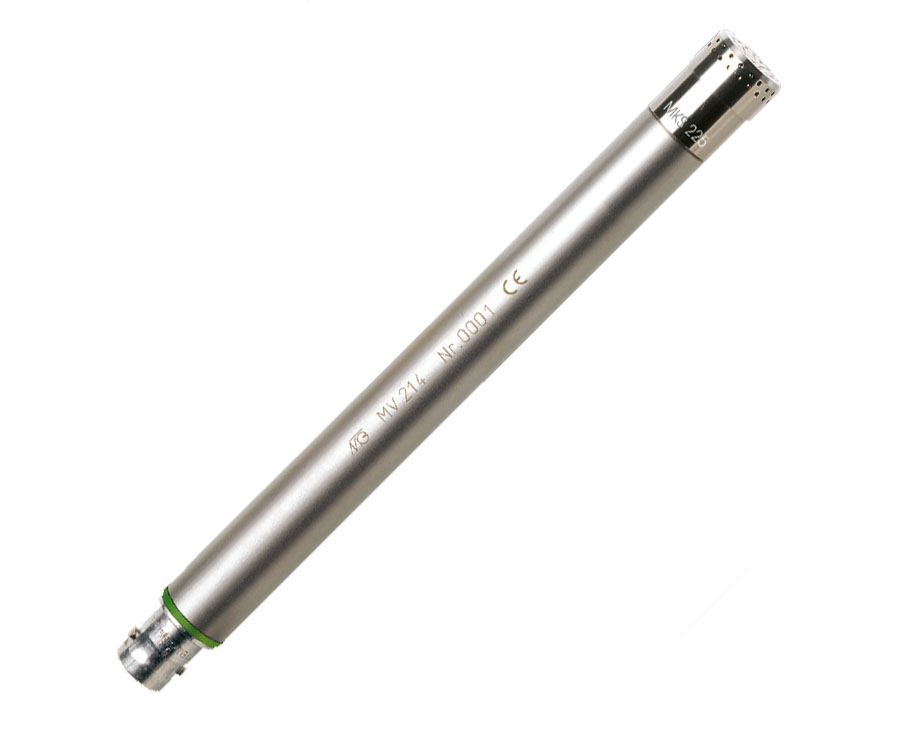 What they all have in common is the 1/2" design, which means that these systems are also suitable for higher frequencies, in contrast to 1" microphones.
But how can it be that these systems are 10dB less noisy than normal 1/2" microphones?
The basic idea is, that the membrane is suspended more loosely, the damping is carefully modified. This makes the microphone significantly more sensitive. however, the frequency response becomes crooked. A pronounced resonance occurs at 8-10kHz. This frequency response is corrected in the preamplifier insuring the requirements of IEC61672-1 Class 1 are met.
Therefore, in these systems, the capsule and preamplifier are a complete unit and cannot be separated.
In addition, the A-curve is used intensively because it removes a particularly large amount of noise.
It should be noted that these microphones can be calibrated at 1Khz with a normal sound level calibrator at 94dB. At higher frequencies, the maximum sound level drops due to the pronounced resonance. Ultimately, these microphones are optimized for a special area. They are by no means usable as general measurement microphones.
Listening samples
Measurement setup: We used a mechanical clock placed 50cm in front of the microphone. The levels of the individual recordings are carefully matched to one another.